Reykjavik International has been held every year since 1989 in the Laugardalur Swimming Pool. Many foreign swimmers have found their way to Iceland and participated in the meet during the years.
Swimmers from Sweden, Czech Republic, Denmark, Germany, East Germany, Russia, Finland, Slovakia, USA and Fareo Islands have visited Iceland and participated in Reykjavik International.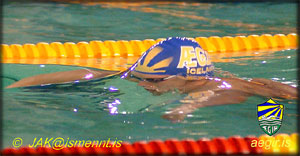 Reykjavik International is now held for the third time in the new 50x25m indoor pool which was opened in January 2005.
For the past three year internationally experienced referees have been invited to conduct the technical part of the competition. Participation in Reykjavik International gives you also a great opportunity to plan a training camp for your team before or after the competition. We can assist you getting training times and accommodation. For the first time Reykjavik International will be a Olympic Qualifying meet on top of that it will be held together with other sports in the Valley of Sports, Laugardalur and in the end og the meet we will have a big celebration together with all the sports.


Therese Alshammar World Record holder competed in Reykjavik International 2005 and 2006. She has the following comments about the competition.

"Reykjavik international has for two years provided me with an excellent opportunity to swim fast early in the season in a top standard Olympic size pool, great arrangement in a professional setting. Everything a swimmer can ask for at an international event plus the luxury of bathing in Iceland's amazing hot waters after the competition and seeing the beautiful city is something for both body and soul."

Iceland – the land of Ice and Fire – has a lot to offer for its visitors. Among the popular tourist attractions is the Blue Lagoon, which is on the way to/from the International airport. Reykjavík City combines the qualities and comforts of modern urbanity and the intimate connection to amazingly beautiful nature. The city is both vibrant in cultural life and boasts short distances to natural surroundings. The world's northernmost capital is framed by the majestic Mt. Esja, which keeps a watchful eye on the city, and the blue waters of Faxafloi Bay. On a sunny day, the mystical Snæfellsjokull glacier appears crystal-like and baby-blue on the western horizon, while mountainous moonscapes spread to the southeast.

Contacts
For any further information about the meet, accommodation, travel information or other
matters, please visit our website www.aegir.is or contact Ægir Swim club by e-mail aegir@aegir.is.
NEWS FROM THE MEET